Gift your partner with

Something Special!
This year,
Give something special!
Season's Greetings are more than just a courtesy. They are your perfect opportunity to surprise your audience with something they don't see every day. From tailor-made 2D animations right up to printed cards with an Augmented Reality (AR) extension, we offer your business and eco-friendly and unique Christmas greetings campaign for 2020.
And why not make an extra effort. This year has been taxing enough on everyone. This is a chance to let people know not only that you're there, but that there are still plenty of reasons to enjoy ourselves. Of course every single greeting card, no matter the medium and design, can be tailored to your specific branding requirements as well.
Have a look at the selection below. Animated sequences start at as little as €300.
2D Animation
Animate your Christmas greetings this year: 2D animations are based directly on any clip's storyboard, which makes them less work-intense and cheaper to produce without losing any of its charm and effect.
With this option, styles can be adapted to different target groups and channels, and there's an appropriate way to go for almost any budget. Click on the image and get to know the animation styles.
Starts from
3.000 EUR / 60 sec
Video and animation
This kind of video combines the advantages of real-life footage with the flexibility of animated video.
This allows you to underline and highlight important parts of your material, pointing out product details, presenting and visualizing data, and illustrating arguments with infographics and diagrams. Click on the image and get to know the animation styles.
Starts from
4.500 EUR / 60 sec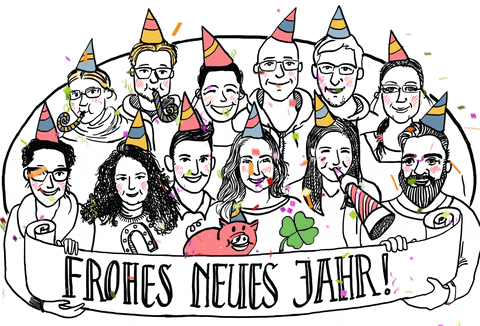 Caricature of collegues in
Moving GIF
Caricature or any other graphic transformed into a moving GIF image.
Positive, light-hearted, easy to love.
Starts from
800 EUR / project
Unique printed
Greeting Cards
Classic greeting cards with an original design.
A popular Christmas evergreen with a creative twist.
Starts from
600 EUR / Design + Printing costs
Augmented Reality Extension for
Printed Greeting Cards
Augmented Reality allows you to boost messages on any medium with a digital extension. Greeting cards and wrapping spring to life, adding a variety of videos and animations to your message. The recipient can use MajorDesign's free AR Go app to see it. Check it out at www.argoapp.info
Go beyond the regular this year and surprise your customers and friends with a message that is special indeed.
Starts from
300 EUR / Project
Designer's hand made
Leather Notebook
100% hand-made leather notbook designed by Marianna Balazs with unique graphics by Austrian artist Johanna Finckh. Made of recycled paper. Company logo can be burned into the leather cover.
Elegant, original, high quality. A company gift with style and an artistic touch.
Starts from
29 EUR / piece
Personalized handcrafted Goods
There is no better way to stand out than to present your clients and friends with something truly unique. Personalized hand-crafted gift items are imbued with the value and character of work, and speak the language of dedication, quality, and appreciation.
These aren't presents that get thrown out. Not ever: the look and feel of such a gift will make sure it sticks around, and with it, you and the message you conveyed will last as well.
Painted Art Video
An artistic way to present yourself: your season's greetings become a trademark of your own creativity.
The painted art video is a special tool for special occasions. Use the power of colors and take your audience on a journey into the unlimited world of the painter's imagination. Every project is a unique opportunity to go beyond words and simple images. A fascinating option for seasonal greetings, company anniversaries, etc. A truly unique way to promote your company or product. Click on the image and get to know the animation styles.
Starts from
2.000 EUR / 30 sec